Get great student discounts across live performances and cinema, and opportunities to create and run brilliant events yourself.
Sign up for the Gulbenkian Uncovered e-shot with latest news, special offers and discounts for students at Gulbenkian. Emails are sent out fortnightly. Sign up here 
You can also find Gulbenkian Student on Facebook for more event listing.
Student discounts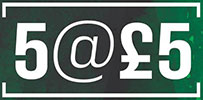 Students get discounts across all our standard films and many theatre performances. We offer two for one student tickets on Tuesday screenings in Gulbenkian Cinema and we release a limited number of £5 student tickets for our 5 favourite live performances each season.