Union – the theme for our Spring 2019 season
2 Jan 2019
"Union, the theme of our Spring 2019 season, is a nod to the Brexit date in March, but more importantly Union is about bringing people together.
As an arts venue we want to explore how we can bring our community together. So, in this season you will find festivals and events around food, music, politics, comedy and community that we want you to come and be part of. As well as enjoying great performances from international artists, you can join us for meals, for discussions and debates and bring your family to our festival family days."
Oliver Carruthers, Director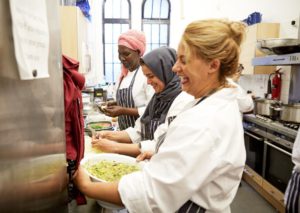 Taste of Gulbenkian
Thu 31 Jan – Sat 2 Feb
Join us for a wonderful fusion of food and arts. Opening with our vegan comedy night (you don't have to be vegan to come! Or find it funny!), followed by a day of talks, discussion and amazing food on Sat 2 Feb. Expect wonderful flavours, tears, laughter and great company.
Celebrating International Women's Day
Fri 1 – Sun 10 Mar
In early March we celebrate women trough music, theatre, comedy and dance.  Marking International Women's day weekend we have Song Bird / World Bird, a mini festival taking over our theatre, foyer and performance spaces, followed by our This Girl Can Family Day – for all the family.
Eutopia
Thu 28 Mar – Tue 2 Apr
Theatre performances, live music and spoken word from across Europe, celebrating the creativity and shared humanity that crosses borders.  Includes our Dash Cafe Eutopia Day for all the family!
Autism Arts Festival
Fri 26 – Sun 28 Apr
A two-day festival of arts by and for people on the autistic spectrum, a celebration of autistic creativity and expanding the idea of a relaxed performance into an entire festival.
Alternative Comedy Now
Wed 1 – Sat 4 May
Forty years ago in May 1979, alternative comedy was born, changing the shape of British stand-up forever, Gulbenkian is celebrating with a festival of alternative comedy, including the funniest veterans of the 1980s scene as well as some of today's best alternative comedians.