Gulbenkian Recommends
5 Jun 2020
We put together a list of key things happening online so you don't miss out on some exciting opportunities from our partners and friends.
Theatre & Dance
The Place Online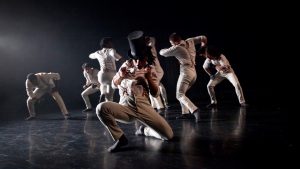 Releasing shows to watch online for free during lockdown including some incredible performances which previously toured to Gulbenkian.
Graeae Theatre
Their raucous musical featuring the hits of Ian Dury and the Blockheads, Reasons To Be Cheerful streams online until 3 August.
Curve Theatre Online
The theatre is sharing archive recordings of some of their past productions.
BBC's Performance Live
Featuring performances from Gulbenkian favourites Hofesh Shechter, Kate Tempest, Jess Thom and more.
Cirque Du Soleil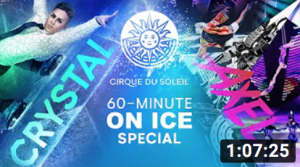 The iconic circus company is regularly putting 1 hour long specials on YouTube to watch for free taken from their impressive back catalogue of performances.
Stratford Festival
The acclaimed festival has made a number of it's Shakespeare productions available to watch on YouTube.  Each production is available for 3 weeks from the initial post date.
Leonard Bernstein's Trouble in Tahiti
Opera North is streaming its production of the hit Bernstein opera on YouTube.
Bristol Old Vic At Home
Productions will premiere every Friday, watchable on their website and YouTube channel, and available to watch for a week after the premiere.
Your Old Vic
A new digital project to offer audiences content online while it's locked down.
Company Chameleon
Having previously toured to Gulbenkian, you can now experience and enjoy powerful and original dance theatre from Company Chameleon at home on YouTube.  Releasing a series of performances from their back catalogue including Beauty of the Beast.
Royal Opera House – Our House to Your House
Offering a schedule of free broadcasts and live content on ROH's YouTube channels.
National Theatre at Home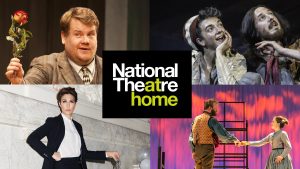 Every Thursday much-loved National Theatre Live productions will be made free to stream on YouTube for seven days as part of #NationalTheatreAtHome.
Andrew Lloyd Webber Musicals Online
Calling all musical lovers! The Shows Must Go On! will be releasing a full-length, smash-hit musical once a week for you to watch for free on YouTube!  It will be available for 48 hours, so you can tune in whenever you like over the weekend!
Shakespeare's Globe
Enjoy a Shakespeare-filled movie night, Shakespeare's Globe are productions online on YouTube and on BBC iplayer as part of Culture in Quarantine: Shakespeare.
Royal Shakespeare Company
Celebrating Shakespeare's Birthday, RSC have released a number of productions on BBC iPlayer to watch for free as part of Culture in Quarantine: Othello, Much Ado About Nothing,  Hamlet, Macbeth, Romeo & Juliet and The Merchant of Venice. The RSC are also offering live lessons exploring Macbeth and Romeo and Juliet.  
Wise Children
Screened previously at Gulbenkian, Emma Rice's brilliant adaptation of Angela Carter's novel is available on BBC iplayer.
Gecko Theatre
A live 30 minute performance by Gecko created specially for Live From Television Centre.  Visual, visceral, ambitious theatre crafted to inspire, move and entertain, watch The Time of Your Life on YouTube.
Physical Theatre company Gecko have also released their incredible performance Institute to watch for free on YouTube.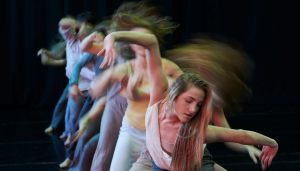 Jasmin Vardimon Company
Offering free online dance and fitness classes including Pilates, Breath & Flexibility, Stretch & Strengthen Adults and Dance Improvisation. Find out more about JVC's dance classes.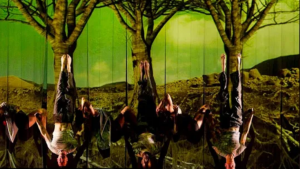 Motionhouse
Capturing the imagination with its spellbinding and ingenious choreography and ahead of their new show which Gulbenkian has commissioned called Nobody coming in Spring 2021, watch Motionhouse's previous productions as part of the Earth Trilogy for free on Youtube. 
Motionhouse have also launched a series of online workshops Adults Beginners, Adults Intermediates and Dance Fitness.  Find these and more in their online YouTube playlist.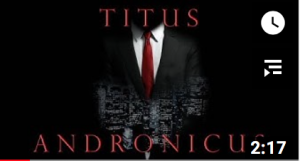 T24: Titus Andronicus
14 deaths, revenge, madness, power, hilarity & a giant pie. Watch this action-packed adaptation performed in 2018 at Gulbenkian by T24, University of Kent Drama Society.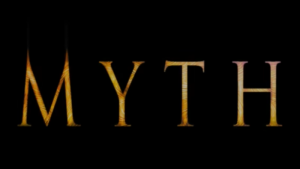 MYTH: The Rise & Fall of Orpheus
Watch Sam Cassidy's musical Myth: The Rise and Fall of Orpheus, a modern retelling of the ancient Greek story of Orpheus and the underworld on YouTube for FREE.
GOLKK Theatre Company
Turning turn quarantine into a quARTine, GOLKK are looking for all creative creatures around the world.  They are creating a space where you can share your work of art in ANY form in an online e-exhibtion. They are also hosting free classes on their Instagram.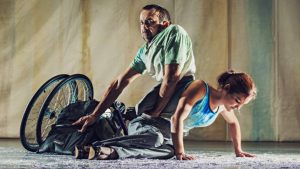 Stopgap's Artificial Things
Regulars at Gulbenkian, Stopgap's Artificial Things previously toured to us but if you missed it you can now watch the award-winning film on Youtube, directed by Sophie Fiennes. Showcasing some of the original pioneers of inclusive dance: artists who are now change-makers, choreographers and masters of their craft.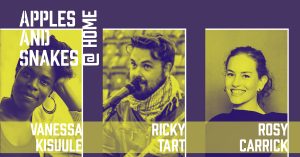 Apples & Snakes @ Home
Brings together some of the UK's leading spoken word poets to deliver top line-ups right to your home on YouTube.

Harry Baker Poet: Something Borrowed
A Weekly Spoken Word and Poetry Gig/Performance/General Fun Time on Instagram Live and available as a podcast.
Gulbenkian Young Company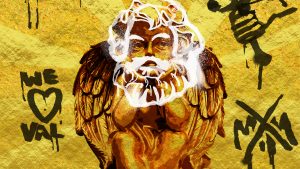 Watch a recorded performance of the The Marxist in Heaven by Hattie Naylor.  This production was created by Gulbenkian Young Company as part of NT Connections, and was performed in March 2020 at Gulbenkian before we closed.
Music
Chineke! Chamber Ensemble
Watch the ensemble perform Deep River, composed by Samuel Coleridge-Taylor from their homes, in tribute to George Floyd, Breonna Taylor, Ahmaud Arbery and all victims of racial injustice across the world.
Aurora Play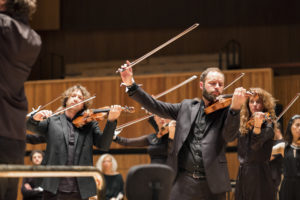 Join Gulbenkian favourites for a orchestral adventure online as they release and perform live online. Each week, Aurora Play brings highlights from their performance archive, from dazzling Orchestral Theatre productions to intimate chamber performances.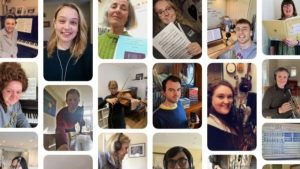 University of Kent Virtual Music Project
The University of Kent Music Department has launched a digital project to create music in lockdown.
The Virtual Orchestra perform Vivaldi's Gloria.
A virtual performance of the first movement of Vivaldi's 'Gloria,' featuring University students, staff, alumni and family recording in isolation during the COVID-19 situation.Watch with visuals on YouTube or listen to the first movement on Soundcloud.
The Virtual Dance Orchestra performs Duke Ellington's classic tune, 'Don't Get Around Much Anymore,' featuring singer Steph Richardson! Listen on SoundCloud.
Find out more about how you can get involved!
Watch facebook live stream of some Calm Music in Troubled Times: an audienceless performance of music by Olafur Arnalds.
Scott Doonican's Big NEET In
Scott Doonican is from the band The Bar-Steward Sons of Val Doonican who are touring to Gulbenkian this autumn, Scott is live streaming music nights weekly.
Singing With Nightingales: Live at Home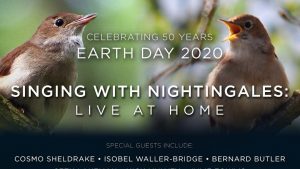 Having toured to Gulbenkian in 2019 and earlier this year, Sam Lee and NestFolk are going live every Wednesday on YouTube with Singing with Nightingales: Live at Home.  Featuring Sam Lee as your host, beaming nightingale song to special guests who will be dueting with the birds for you.  The recordings are available after each live broadcast.
Joe Stilgoe: Stilgoe in the Shed
Internationally acclaimed singer, pianist and songwriter Joe Stilgoe is performing an array of jazz and musical hits from his shed everyday at 1pm. Joe previously starred in High Society at The Old Vic in 2015, and in 2018, Guys And Dolls at the Albert Hall. He has worked with some of the finest orchestras and bands in the world including The John Wilson Orchestra, BBC Concert Orchestra, Royal Liverpool Philharmonic Orchestra, RTE Orchestra, Lahti Symphony Orchestra, BBC Big Band and The Guy Barker Big Band.
Royal Albert Home
The Royal Albert Hall is hosting a series of online concerts n YouTube including Rufus Wainwright, KT Tunstall and many more! Plus there will be a special V.E. Day 75 performance with Katherine Jenkins  on Fri 8 May.
Comedy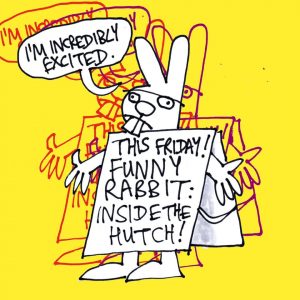 Funny Rabbit: Inside the Hutch
Gulbenkian's monthly comedy club went digital in April with a phenomenal line-up including:
Josie Long, Bec Hill, Alasdair Beckett-King, Susan Murray, Jamie D'Souza & MC Oliver Double.  Watch the facebook live Funny Rabbit Comedy Event recording.
Family
MishMash Productions
The company have created a series of 11 interactive podcasts explore the music, stories and theatre from their shows Smile, Strange Creatures and Hubbub: A Musical Adventure, which previously toured to Gulbenkian. Each short podcast includes performances and participatory activities for children aged 3 – 7 and their families and classes. Find out more on Youtube.
Snow Mouse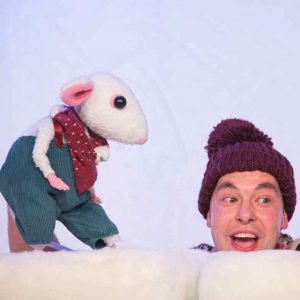 From a company who have previously toured to Gulbenkian, follow the wintry adventures of Snow Mouse in this live recording by Bath's Egg Theatre and Travelling Light for ages 6 months – 4 years.  Watch for free on Vimeo.
A Tiger's Tale
Having previously toured to Gulbenkian, M6 Theatre are making their production of A Tiger's Tale available to watch online from Fri 8 May. Based on the extraordinary story of Fenella, the Holmfirth Tiger, A Tiger's Tale is a high spirited balancing act of circus, puppetry, music and song.  Recommended for ages 4+
The Twisted Tale of Hansel & Gretel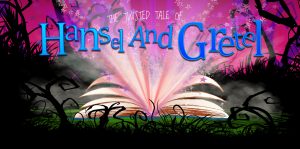 Due to our closure we had to cancel this show, so we were thrilled when Open Theatre and Metro-Bolout-Dodo announced they were making it FREE to watch online.
Brigitte Aphrodite's Massive Family Rave Party
Hosted by Gulbenkian on Facebook on Sat 11 Apr, watch the recording of the Family Rave.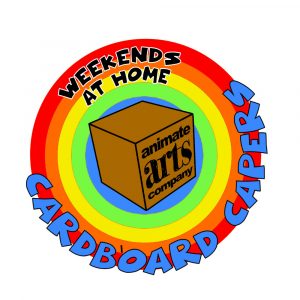 Animate Arts Company's Cardboard Capers 
Tune into Animate Arts Facebook on Friday mornings for fun and creative projects to do at home.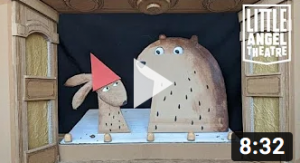 Little Angel Theatre
Watch mini performances for free on Youtube including:
I Want My Hat Back
We Found a Hat  – available from Sunday 24 May at 11am
Little Angel Theatre have been releasing a daily story read aloud on Youtube. There are also activities to do alongside the stories – watch the tutorials on YouTube.
Half Moon Theatre At Home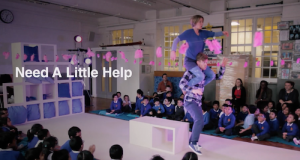 A selection of recent much-loved productions for young people will be made available free.  Including these two fantastic shows previously toured to Gulbenkian:
 Butterflies – Watch here
An uplifting tale of friendship and courage as three friends embark on an adventure to chase their butterflies away. Recommended for ages 3-8.
Need A Little Help – Watch here
Based on the experiences of young carers, this moving and uplifting show explores what it means to look after someone else when you are young. Recommended for ages 2-7.
Coming soon to watch online:
The Snow Dragon Storytime
Tall Stories co-director Toby has recorded a charming storytelling version of our 2019 Christmas Show, The Snow Dragon on Youtube. Suitable for all ages, especially 3-5 year olds.
BookTrust Home Time
Home Time is full of fun activities from children's authors and illustrators for kids to do at home, including Cressida Cowell reading How To Train Your Dragon!
Stilgoe in the Shed: Children's Special
Sadly we had to postpone performances of ZOG to later in 2020, but the musical genius behind the new songs in the show does special children's musical episodes on YouTube every Friday which are fantastic.  Watch him sing the Baked Potato Song and many more for FREE.
Tall Stories Room on the Broom: Dog's Song
Join in with Dog from ROOM ON THE BROOM in this special singalong lockdown version of Dog's Song from Tall Stories' stage adaptation of Julia Donaldson and Axel Scheffler's family favourite picture book. Join in with the words or just howl along!
Film & Arts
London Indian Film Festival at Home
Presenting a cutting-edge selection of the very best new independent cinema from the Indian subcontinent and its worldwide diaspora. During this time, the festival have made their films FREE for a limited time.
LionsgateLIVE UK
Fancy a night At The Movies! In May Lionsgate are running over 4 Saturdays, 4 FREE movies on YouTube. In support of NHS Charities Together COVID-19 Urgent Appeal and The Film and TV Charity COVID-19 Emergency Response.All broadcast at 6pm, May 2nd – La La Land, May 9th – Eddie the Eagle, May 16th – Bend it Like Beckham  and May 23rd- The Hunger Games
Flatpack Festival 2020
A film festival like no other, Flatpack stirs together screenings with live events, food, walks, installations and parties to turn Birmingham on its head for a week.  This year they've gone digital with Flatpack: the home entertainment edition.
BFI Japan 2020
From 11 May you can enjoy BFI Japan 2020: Over 100 Years of Japanese Cinema, a major celebration of Japanese cinema available on BFI Player!

Women Make Movies Virtual Film Festival
Launched in March to commemorate International Women's Day and Women's History Month, but in response to the global health crisis, the festival has been expanded and extended until May 31. Sign up for free to watch films by women and join an international audience of 8000—and counting.
Kermode & Mayo's Film Review
Perfect timing to start listening to podcast and if you love film it doesn't get much better than Mark Kermode & Simon Mayo giving their verdict on the week's movies.
Also worth a listen is Mark Kermode's weekly podcast Kermode on Film.
Newly started Kemode & Mayo's Home Entertainment Service is a brilliant round-up of the best (and worst) of online streaming.
Living Room Q&As
Love film?  Curzon Home Cinema are offering a series of free to watch live streamed Q&As.  Films include new titles and previous releases including: Cunningham, The Assistant, 45 Years, The Souvenir and many more!
Big Book Weekend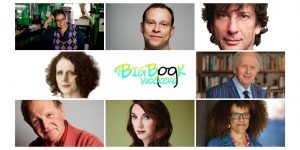 A 3-day virtual festival from 8-10th May, taking place on MyVLF.com, that brings together the best of the British book festivals cancelled due to coronavirus, bringing together lots of authors & speakers including Michael Morpurgo, Terry Waite, Maggie O'Farrell & more! Watch for FREE by signing up.
Exhibition On Screen are facebook premiering titles for a free broadcast stream including 'Painting The Modern Garden: Monet to Matisse', live on Facebook on Monday 27 April, available to watch for a 7 day window.  Visit their Facebook page to find out more.
We Are One: A Global Film Festival 
Running from May 29 to June 7, this sure to be historic online film festival will feature programming of new and classic films from 20 festivals. Tribeca Enterprises and YouTube announced the event in support of the World Health Organization and regional relief partners on Monday (April 27). The line-up will include features, documentaries, shorts, music, comedy and conversation. Find out more
Support local businesses
We've closed our doors temporarily but we wanted to flag up our local suppliers who are offering home delivery so you can get that Gulbenkian daily tea or coffee at home.  Whether you are working from home, organising virtual coffee meet-ups or snuggling up with a cuppa and a good show online (see our recommendations above), make time for a cuppa.