This November and December we present our Music & Film series
2 Nov 2018
This November and December we are uniting music and film for fantastic performances; from live-scored musical accompaniments to an interactive cinema sing-a-long. 
November Showings
Fri 9 November | 20.00
The Cabinet of Dr Caligari
This classic surrealist film will be brought to life with a live score for the very first time by musicians, The Cabinet of Dr Caligari. The interactive playful nature of the film inspires timbre, harmony and texture – come along for a night of legendary cinema with an extraordinary new score.
Sat 10, Sun 11, Mon 12 & Fri 16 November | Times vary
A Star is Born
In Bradley Cooper's directive debut, a musician helps a younger singer and actress find fame. Jacappella will be performing before the screening on Sun 11 Nov.
Tue 13 November | 19.00
Vertigo
A dreamlike thriller from the 'Master of Suspense', Alfred Hitchcock. The film will be introduced by Professor Matthew King, who will be giving into a fascinating insight into the music that accompanies it. Pianist Matthew King will also be performing a lunchtime concert (1.10pm) featuring music from the film in Colyer-Fergusson Hall on 14th Nov.
Fri 23 November | 19.00
Hymn: Sarah Brightman in Concert
In celebration of her upcoming new album Hymn, best-selling Soprano Sarah Brightman is in cinemas with an incredible performance. The concert was captured live for the big screen from the Festspielhaus in the enchanted Bavarian Alps, known for the historic and captivating Neuschwanstein Castle.
Fri 30 November | 23.59
The Rocky Horror Picture Show
The ultimate B-movie referencing, Time Warp-ing, cinematic musical extravaganza returns!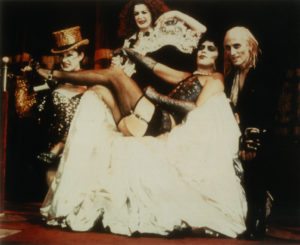 December Showings
Sat 1 Dec – Sun 2 Dec, Tue 4 & Fri 14 Dec | times vary
Bohemian Rhapsody
A biopic drama exploring the years leading up to Queen's appearance at the Live Aid (1985) concert.
Fri 7 Dec, 20.00
Manu Delago – Parasol Peak
Musicians ascend the Alps with instruments in order to record and perform while surrounded by the elements.  Delago comments: "Of course performing on acoustic instruments has been done for thousands of years, so I wanted to add an extra component – nature, or more precisely the Alps. I wanted to utilise our surroundings by incorporating lots of percussion sounds like trees, water, little rocks as well as the gear that we were carrying".
Featuring a live musical performance.